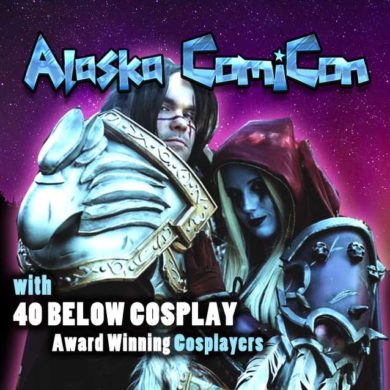 Cosplaying since she was in grade school, Samantha has had a passion for making costumes for many years.  Beginning with sewing and textile work, her early projects consisted mostly of Disney Princesses and other elaborate dresses.  In recent years she's expanded her skills with the use of worbla, EVA foam, resin casting, and prosthetics to name just a few, giving her an extensive knowledge of cosplay.
After discovering his love for cosplay all the way out in the frozen tundra of Nome, Alaska, Ian has been making costumes for over ten years.  Despite materials being harder and more expensive to obtain out in the bush, he fell in love with making props and armor.  While using multiple materials and techniques over the years, EVA foam and armored cosplays continue to be his favorite.
The two met in costume and began their journey together as a cosplay duo in early 2017.  Over the years they've traveled to many cons and won multiple awards in and out of the state of Alaska.  After over a decade of living in the Arctic, the two have migrated south to Kansas City, MO, but they will always consider Alaska their cosplay home state!