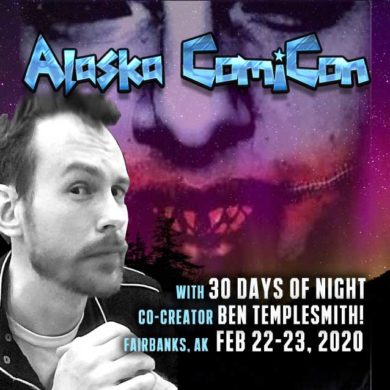 Co-Creator of 30 Days of Night
The series takes place in Barrow, Alaska, so far north that during the winter, the sun does not rise for 30 days. In the series, vampires, being vulnerable to sunlight, take advantage of the prolonged darkness to openly kill the townspeople and feed at will.
Initially an unsuccessful film pitch, the series became a breakout success story for Steve Niles, whose previous works had received relatively little attention. It was also the first full-length work by co-creator Ben Templesmith. The series has been followed by numerous sequel series, and in 2007, was adapted into a film of the same name.
Selected bibliography
Comics
Hellspawn (artist, Image Comics, 2002)
30 Days of Night (co-creator and artist, with Steve Niles, IDW Publishing, 2002)
Dark Days (co-creator and artist, with Steve Niles, IDW Publishing, 2003)
Criminal Macabre (artist, with Steve Niles, Dark Horse Comics, 2003)
Wormwood: Gentleman Corpse (creator and writer/artist, LOFI Magazine, 2004–2006, IDW Publishing, 2006–present)
30 Days of Night: Return to Barrow (co-creator and artist, with Steve Niles, IDW Publishing, 2004)
Singularity 7 (creator and writer/artist, IDW Publishing, 2004)
Blood-Stained Sword (co-creator and artist, IDW Publishing, 2004)
Silent Hill: Dying Inside (artist, with Scott Ciencin, IDW Publishing, 2004)
30 Days of Night: Bloodsucker Tales (co-creator and artist, with Matt Fraction, IDW Publishing, 2004–2005)
Hatter M (artist, with Frank Beddor and Liz Cavalier, Image Comics, 2004–2006)
Shadowplay (co-creator and artist, IDW Publishing, 2005)
Fell (co-creator and artist, with Warren Ellis, Image Comics, 2005–present)
30 Days of Night: Red Snow (co-creator and writer/artist, IDW Publishing, 2007)
Dead Space (artist, with Antony Johnston, 2008, Image Comics)[12]
Welcome To Hoxford (creator and writer/artist, IDW Publishing, 2008)
Doctor Who – The Whispering Gallery (artist, with Leah Moore and John Reppion, 2009)
Groom Lake (co-creator, with Chris Ryall, IDW Publishing, 2009)
Choker (co-creator, with Ben McCool, Image Comics, 2012)
Ten Grand (artist), with J. Michael Straczynski, Image Comics, 2013
Gotham By Midnight (Artist) (co-creator, with Ray Fawkes, DC Comics, 2014)
Game books
Art books
Tommyrot: The Art of Ben Templesmith (IDW Publishing)
Conluvio: The Art of Ben Templesmith, Vol. 2 (IDW Publishing)
SquidGirls: Erotica Tentacular