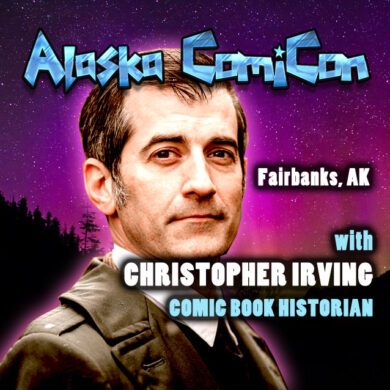 Christopher Irving came into media studies through comic book journalism and history. While earning his BA in Art Education from Virginia Commonwealth University in 1999, he was already interviewing comic book creators. Soon after, he was contributing to industry magazines such as Comics Buyer's Guide, Alter Ego, and the award-winning Comic Book Artist (where he served as Associate Editor). While in the MA program for Comparative Literature at Brooklyn College in 2012, Irving expanded his studies to include media with his thesis "A Succession of Masks: Batman's Evolving Sexuality," which analyzed the Batman comics and TV show from the 1940s through early '70s against the public perception of homosexuality.
Irving started teaching Comic Book History in VCU's Communication Arts department in 2016. He has since risen from adjunct to assistant professor and continues to develop a media program within the department, teaching the requisite Visual Communications history course (which he revamped and updated as a media history class), as well as a series of topics courses that concentrate on popular culture and its relation to media and storytelling.
Irving teaches several Pop-Culture related college classes on the University level, including Star Wars Decoded, The Superhero Decoded and others for the Communication Arts department. His focus is on creating a holistic approach towards the study of media that combines film, comic books, television, and other new media with cultural and social history.
Creatively, Irving has crowdfunded a series of merchandise of Michael Allred's indy comics superstar Madman, and created the branding for the "Madmaniverse" of characters in everything from custom yo-yos to 3-D trading cards to an action figure. He also is a story architect of the Eagle Force toy line (from Fresh Monkey Fiction) and has written several pulp novellas while also creating character profiles and backstory.
He keeps one foot firmly in the comic book industry as a moderator for the GalaxyCon convention, which sets up around the country, and still occasionally writes historical and journalistic essays for publications like ComicScene or his own Madmania essays on Allred's Madman comics.
Irving continues to seek out new ways to view both a history and analysis of different media while a student of the Media, Arts, and Text PhD program at VCU.