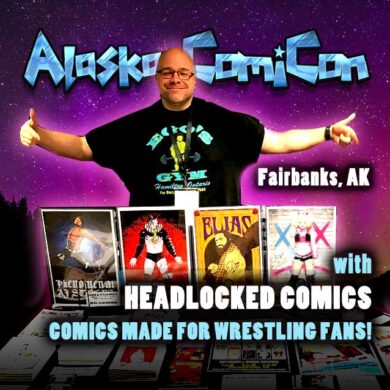 Meet Michael Kingston, publisher of HEADLOCKED COMICS!
"Nine years ago, I just wanted to make a cool wrestling comic. Something that was entertaining but that also showcased wrestling as an art form. As a lifelong fan of both wrestling and comics, I felt that despite the obvious parallels and crossover fanbase…no one had really done wrestling comics the right way.
I created Headlocked, an HBO-style drama chronicling an aspiring wrestler's coming of age in the wrestling business. And I pitched it to everyone in comics… and I was turned down by everyone…one dude from a major publisher straight up laughed in my face.
So we just made them ourselves.
2007: I started by selling them out of a backpack at wrestling shows while working two jobs to pay for printing and convention costs.
2010: With the addition of WWE Hall of Famer, Jerry "The King" Lawler as the cover artist and Samoan wrestler/artist, Michel Mulipola on interiors, the art in the book was now all largely done by actual professional wrestlers.
2017: We've raised 100K on Kickstarter, we've had over 30 wrestlers contribute stories or art including: Ric Flair, Mick Foley, AJ Styles, Samoa Joe, Kenny Omega, The Young Bucks, Booker T, Rob Van Dam, Hurricane, Cody Rhodes, MVP, Gangrel, SCU, Ken Anderson, Trent Seven, Mustafa Ali and more!
We built this brand from the ground up by hustling for the last nine years, thriving in mediums dominated by giants like Marvel, DC, and WWE. While we've grown by leaps and bounds in the last few years, we've still barely scratched the surface of what this property can be.
IIn 2019, we've kept growing and evolving with new partnerships…some that can't even be announced yet. We launched Headlocked Clothing in conjunction with Pro Wrestling Tees featuring incredible wrestling/comic book mashup art and are teaming up with Jeanie Buss and WOW: Superheroes for a special San Diego Comic Con event.
And with the success of GLOW on Netflix and the popularity of wrestling in the mainstream at an all-time high, Headlocked has begun drawing significant interest from Hollywood. Where will this take us? We don't know but we're excited to find out!
2020:
The worldwide pandemic temporarily halted our comic con roadshow but we kept it moving. We launched a second title, "Tales From The Road" in conjunction with Pro Wrestling Crate featuring collaborations with Christian, Franky Monet (Taya), Cryme Time, Sgt. Slaughter, and Matt Cardona/Brian Myers. We also launched our fifth successful Kickstarter for a collected edition of thirteen Tales From The Road collabs including original content from Dolph Ziggler, Joey Janela, Danhausen, and Lee Moriarty!
2021:
We kept it moving despite another tough year, dropping collaborations with Thunder Rosa, Brody King, and Lita. As things slowly return to normal, we're gearing up to resume our convention schedule with up to eleven shows starting in August.
2022-2024: WE ARE BACK ON THE ROAD, MEETING FANS ACROSS THE WORLD!!!!
Stay tuned!"
Headlocked writer/creator
Mike Kingston