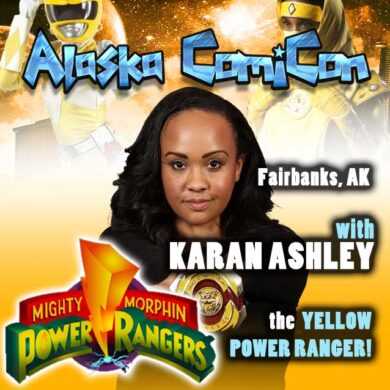 We are THRILLED to have Karan Ashley join us in Fairbanks for the 2024 Alaska ComiCon!
To win the coveted role as a Power Ranger, Ashley auditioned against thousands in a nationwide open casting call and won the role of Aisha Campbell, the second Yellow Ranger in the Fox Kids series Mighty Morphin Power Rangers.
In 2023, Ashley reprised the role of Aisha Campbell in the Netflix special, Mighty Morphin Power Rangers: Once & Always, which celebrates the 30th anniversary of the Power Rangers franchise.
Ashley has made guest appearances in TV shows such as Hangin' with Mr. Cooper, Kenan & Kel, and The Parkers, Taylor's Wall. Her first film debut as an executive producer was the independent film Devon's Ghost, alongside fellow Power Rangers alumnus Johnny Yong Bosch and director Koichi Sakamoto for Gag Order Films, Inc. While she also co-wrote Devon's Ghost, her first screenplay staple came with the film Unto Thee in 1999. She co-wrote the film with Gia and Tim Grace, and also starred in the movie.
Film
Television
In Studio 4-B (1994)…Various
Mighty Morphin Power Rangers (1994–1996, 2023)…Aisha Campbell / The Yellow Ranger
Mighty Morphin Power Rangers: Alpha's Magical Christmas (1994)…Aisha Campbell
Hangin' With Mr. Cooper (1996)… Monica Carson
Boston Common (1996-2002)…Wyleena Pritchett-Steele
Kenan & Kel (1999)…Melissa—Season 4 episode 5, "The Limo"
Power Rangers: The Lost Episode (1999)…Aisha Campbell (special episode/archival footage)
The Steve Harvey Show (1999–2000)…Carrie McKnight (two episodes)
The Parkers (2000)…Bride—Season 2, "Wedding Bell Blues"
One on One (2002)…Angie—Season 1, "Me and My Shadow
Class Dismissed (2016)…Brandy