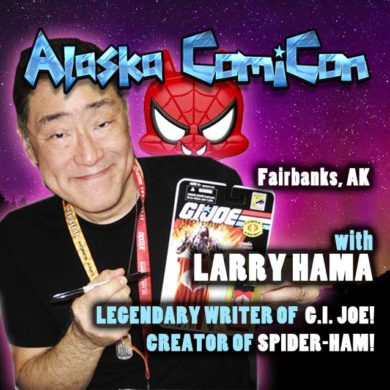 Larry Hama is an American comic-book writer, artist, actor, and musician who has worked in the fields of entertainment and publishing since the 1960s.
During the 1970s, he was seen in minor roles on the TV shows M*A*S*H and Saturday Night Live, and appeared on Broadway in two roles in the original 1976 production of Stephen Sondheim's Pacific Overtures.
He is best known to American comic book readers as a writer and editor for Marvel Comics, where he wrote the licensed comic book series G.I. Joe: A Real American Hero, based on the Hasbro toyline. He has also written for the series Wolverine, Nth Man: The Ultimate Ninja, and Elektra. He co-created the character Bucky O'Hare, which was developed into a comic book, a toy line and television cartoon.[2]
Mr. Hama created Spider-Ham, who was recently voiced by John Mulaney in the movie Into the Spider-Verse. Other roles include a guest appearance on Robot Chicken.
Netflix viewers will remember Mr. Hama, often credited at the Godfather of G.I. JOE, was featured prominently in the Toys That Made Us documentary regarding the G.I. JOE toy line…a show which is considered to be the most-watched non-fiction show EVER for the streaming network.