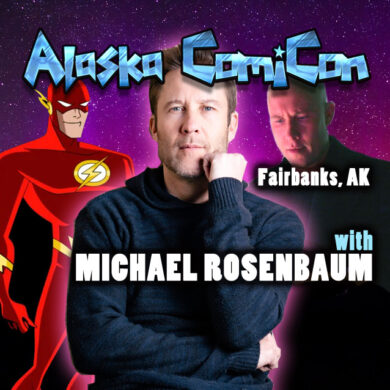 Michael Rosenbaum has worked with everyone from Bradley Cooper, Kristen Bell and Charlize Theron to Christopher Walken,
Steve Martin, Sylvester Stallone and Clint Eastwood. He's acted in over 20 feature films, including Guardians of the Galaxy 2,
Urban Legend, Bringing Down the House, Sweet November, Sorority Boys and Poolhall Junkies. He also has an extensive voice-
over career, voicing THE FLASH in the Justice League Animated series and many other characters throughout the DC universe.
Known for playing what many journalists, fans and the late Stan Lee believe to be the best LEX LUTHOR ever portrayed on
screen, Rosenbaum shaved his head for the role for 7 seasons on the smash hit Smallville.
After Smallville, Rosenbaum went on to do more comedy. He played the fan favorite Dutch Nilbog in the show Breaking In on
Fox and played the lead role of Buddy Dobbs in the show IMPASTOR where he was also Executive Producer.
He then wrote directed and starred in his own film, BACK IN THE DAY acting opposite Morena Baccarin and Nick Swardson.
Rosenbaum is also the lead singer for the band SUN SPIN. The band just came out with their first album, BEST DAYS.  They have
been performing live virtually for the last year and plan to tour Europe.
What could be Rosenbaum's greatest passion is his podcast INSIDE OF YOU with Michael Rosenbaum, which has garnered a lot
of attention among fans as being one of the most intimate and engaging one on one interview podcasts out there.  With over
10 million downloads,  his guests have included Bob Odenkirk, Grant Gustin, Henry Winkler, Jenson Ackles,  Rainn Wilson, Dax
Shepard, Kristen Bell, Justin Hartley, Tom Welling and more. You can listen on almost every platform and watch the interviews
on Youtube. Recently Westwood One has has partnered with the podcast.
Rosenbaum is also very passionate about his charities. He works closely with the non-profit FOOD ON FOOT, an organization
dedicated to giving homeless people in Los Angeles a second chance at life. His other charities are doing movie nights for the
children and families living at the RONALD MCDONALD HOUSE in Los Angeles and working with ECHOES OF HOPE helping foster
youth and giving them every opportunity to succeed in life. He's been involved with Echoes for over 10 years.