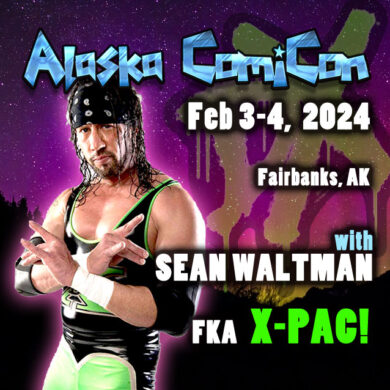 Sean Waltman
2024 Media Guest
Sean Michael Waltman (born July 13, 1972) is an American professional wrestler and martial artist. He is currently signed to WWE under a legends contract. He is best known for his appearances for the World Wrestling Federation (WWF, now WWE) under the ring names 1–2–3 Kid, Kamikaze Kid, and X-Pac. World Championship Wrestling (WCW) as Syxx, and NWA Total Nonstop Action (NWA-TNA) as Syxx-Pac and under his real name.
Waltman began his career in the WWF in 1993, where he performed under several monikers as a jobber, until he was branded the 1-2-3 Kid after an upset victory over Razor Ramon on Raw. As 1-2-3 Kid, he held the WWF Tag Team Championship twice and challenged Bret Hart for the WWF World Heavyweight Championship in July 1994 in what was ranked by WWE as the third-best match ever aired on Raw.[6] During this time, he was part of The Kliq, a backstage group that was known for their influence on WWF storylines in the 1990s.
During the Monday Night Wars, Waltman left the WWF in 1996 to join Kliq members Kevin Nash and Scott Hall (formerly known as Razor Ramon) as Syxx in WCW, and held the WCW World Tag Team Championship with them as part of the New World Order (nWo), as well as becoming a one-time WCW Cruiserweight Champion. After being released from WCW in 1998, he returned to the WWF during its Attitude Era, where he was re-branded as D-Generation X (DX) member X-Pac and held the WWF Light Heavyweight Championship and WWF European Championship twice each, while also holding the WWF Tag Team Championship two more times while paired with Kane. After WCW went out of business in 2001, X-Pac held the WCW Cruiserweight and WWF Light Heavyweight Championships simultaneously during The Invasion, before departing the company after a brief nWo reunion the following year. He subsequently performed sporadically for several promotions, notably TNA (where he became a one-time TNA X Division Champion and was member of The Band), and on the independent circuit.
Waltman has won a dozen championships between WWE, WCW, and TNA, the majority being cruiserweight and tag team titles. He is the only wrestler to have held the TNA X Division Championship, the WCW Cruiserweight Championship, and the WWF Light Heavyweight Championship. He was the final WWF Light Heavyweight Champion before the title was retired in favor of the Cruiserweight Championship he simultaneously held. He is recognized by WWE as the only wrestler to have been "an active member of both the nWo and DX during their heydays" in the 1990s.[7] Additionally, he is a two-time WWE Hall of Fame inductee and the only inductee to be inducted two years in a row (2019 and 2020) as a member of DX and the nWo respectively.