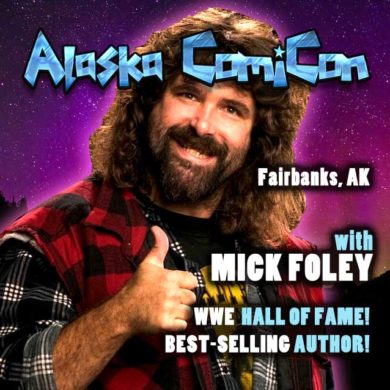 Foley worked for many wrestling promotions, including the World Wrestling Federation (WWF, now WWE), World Championship Wrestling (WCW), Extreme Championship Wrestling (ECW), Total Nonstop Action Wrestling (TNA), and National Wrestling Alliance (NWA), as well as numerous promotions in Japan. He is widely regarded as one of the greatest wrestlers in the history of WWE,[8] and participated in the main event of WrestleMania in 1999 and 2000 (as a special guest referee in the former). He was inducted into the WWE Hall of Fame class of 2013.
Foley has wrestled under his real name and various personas. His main persona during his time in WCW and ECW from 1991 to 1996 was Cactus Jack, a bloodthirsty and uncompromisingly physical brawler from Truth or Consequences, New Mexico, who wore cowboy boots and often used sharp metallic objects, such as barbed wire, thumbtacks, and trashcans. When Foley first appeared in the WWF in 1996, he debuted the persona known as Mankind, an eerie, masochist, mentally deranged lunatic who was masked and spent his spare time dwelling in mechanical rooms. The following year, Foley debuted Dude Love, a relaxed, fun-loving, jive-talking, tie-dyed shirt-wearing hippie. These personas were known as the "Three Faces of Foley", with Cactus Jack making his debut in the WWF also in 1997. All three characters appeared in the 1998 Royal Rumble, making Foley the only competitor to enter the same Royal Rumble match three times under different personas.[9]
Foley is a four-time world champion (three WWF Championships and one TNA World Heavyweight Championship), an 11-time world tag team champion (eight WWF Tag Team Championships, two ECW World Tag Team Championships and one WCW World Tag Team Championship), a one-time TNA Legends Champion, and the inaugural WWF Hardcore Champion. Foley's Hell in a Cell match against The Undertaker is regarded as one of his most memorable and controversial matches and widely acknowledged as the greatest Hell in a Cell Match of all time.[10] Foley's dedicated and physical style of wrestling led him to often participate in violent and brutal matches that involved him taking dangerous bumps and putting his body through a considerable physical toll, eventually earning him the moniker "The Hardcore Legend".[11]